Genes in Space STEM Competition Announces Winning High School Team
Press Releases | July 27, 2018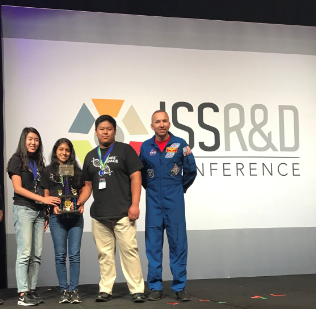 San Francisco, CA, July 27, 2018 - Genes in Space named a team of Minnesota high school students the winners of this year's contest. David Li, 17, from Woodbury High School, Michelle Sung, 16, Aarthi Vijayakumar, 16, and Rebecca Li, 16, of Mounds View High School proposed an experiment to study how cells repair their DNA in space. Their winning experiment will be performed by astronauts aboard the International Space Station next year. This is the first time the judges selected a team experiment as the winner of the Genes in Space contest.
By increasing our understanding of the effect of microgravity on the mechanisms of DNA repair, the team's project aims to protect astronauts from cosmic radiation. The experiment will utilize CRISPR/Cas9 genome editing plus DNA amplification and sequencing technology. It will be the first student-designed DNA sequencing project to be conducted aboard the ISS.
The announcement completes the fourth annual Genes in Space contest which has given students in grades 7 through 12 the chance to design experiments to solve real-life space exploration challenges through DNA analysis. The competition was founded by miniPCR and Boeing. It is sponsored by Math for America, CASIS, and New England Biolabs. The contest has launched five sets of student experiments to the ISS, including a pair of experiments in April. Research derived from the contest has accomplished numerous milestones, including the first DNA amplification experiment ever conducted in space.
The students' winning experiment was announced today at the International Space Station Research and Development Conference in San Francisco. They were chosen from a competitive group of 559 applications from across the country. They were among five finalist teams who were invited to present their proposals before a prestigious panel of scientists, technologists, and educators - including MƒA Master Teacher Vielca Anglin - at the conference, with one finalist team being mentored by MƒA Master Teacher Marisa Wagner. Li, Li, Sung and Vijayakumar were mentored by Woodbury High School teacher Kaarin Schumacher and MIT graduate student Kutay Deniz Atabay. The team along with their teacher and mentor will travel to NASA's Kennedy Space Center this spring to watch their experiment launch to space.
About Genes in Space
Genes in Space is a national STEM contest that challenges students in grades 7 through 12 to design DNA analysis experiments using the ISS National Lab, a platform for cutting edge research and technology development that enables future deep space exploration. The contest is a collaboration between miniPCR and Boeing with generous support from CASIS (manager of the ISS National Lab), Math for America, and New England Biolabs®.
The U.S. competition is accepting student projects for 2018. Submission deadline is April 20th. Learn more: www.GenesInSpace.org. 
About the Sponsoring Organizations:
Boeing
A unit of The Boeing Company, Defense, Space & Security is one of the world's largest defense, space and security businesses specializing in innovative and capabilities-driven customer solutions, and the world's largest and most versatile manufacturer of military aircraft. Headquartered in St. Louis, Defense, Space & Security is a $31 billion business with 53,000 employees worldwide. Follow us on Twitter: @BoeingDefense.
Math for America
At MƒA, we've created fellowships for accomplished mathematics and science teachers. Our model is based on the belief that collaboration, continued learning, and genuine respect enables teachers to grow professionally and provides long-term career satisfaction. This is a remarkable community of teachers who stay in the profession longer and define what teaching excellence means. These are teachers who inspire and motivate their colleagues. They change the lives of their students. Learn more at MathForAmerica.org.
miniPCR
miniPCR reinvents lab technology to make science simple, accessible, and exciting, enabling everyone to experiment at the cutting edge of biology. www.minipcr.com
The Center for the Advancement of Science in Space (CASIS)
CASIS was selected by NASA in July 2011 to maximize use of the International Space Station (ISS) U.S. National Laboratory through 2020. CASIS is dedicated to supporting and accelerating innovations and new discoveries that will enhance the health and wellbeing of people and our planet. www.iss-casis.org
New England Biolabs, Inc. (NEB)
NEB is the industry leader in the discovery and production of enzymes for molecular biology applications and now offers the largest selection of recombinant and native enzymes for genomic research. For over 40 years, NEB has been committed to the advancement of science and science education. For more information on our products and corporate initiatives, please visit www.neb.com