Citizen Can
Teacher Voices | December 7, 2017
Every month we feature an opinion piece written by teachers in the MƒA community. Welcome to MƒA Teacher Voices.
By Michael Paoli, MƒA Master Teacher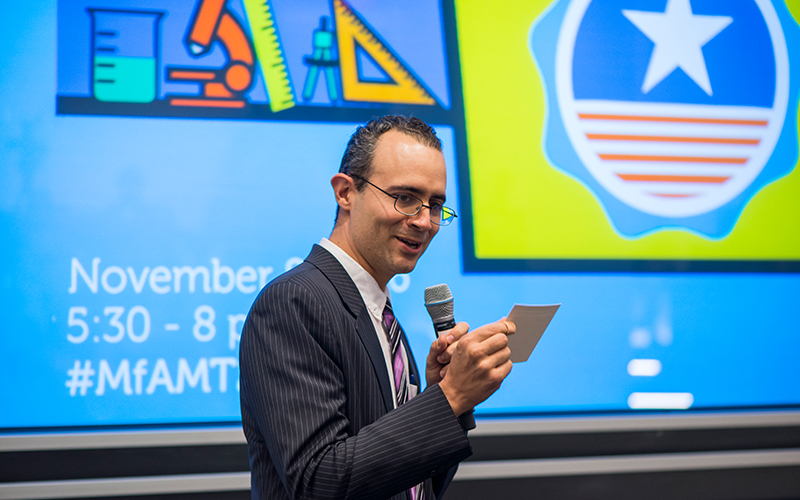 Early on during my first tour of duty with Math for America, my wife and I were invited to a small MƒA dinner with about 50 dapper adults. We sat next to a lovely couple and the gentleman asked how I liked being an MƒA teacher. I said it was so-so and that I hadn't found people that I connected with yet and hadn't taken advantage of the PD opportunities available. A few minutes later, the emcee of the dinner announced, "Ladies and Gentleman -- Mr. Jim Simons." The man I had just been speaking with got up (I thought perhaps he was going to get Jim Simons?) and walked over to the mic. This man began to intimate that out of all his many philanthropic passions, he founded MƒA and it was most dear to his heart. His life had been so inspired by his great teachers, and he was so glad that teachers in MƒA appreciated his unique and valued organization. He paused and added, "...except for that guy there" (pointing in my general direction). I still have heel marks from my wife's shoes on my shins. Nevertheless, I was allowed to continue engaging in the MƒA community, and this humiliation inspired me to do two things: 1) shut up and 2) dig in.
Shortly after, I began dragging fellow teachers and MƒA facilitators into my classroom to help me craft my teaching practice. Of course, I made it about (oh I don't know) "kids learning" or something like that. I wanted to be a master… a master teacher. I wanted to live up to the name MƒA MASTER TEACHER (cue John Williams music).
Soon after that, I found an MƒA professional development (PD) opportunity that introduced me to teachers at MƒA who I finally clicked with (it was probably my fault it took so long). They all wanted to solidify and stretch their practice - we dove in over the course of a year to experiment a set of eccentric non-routine problems. We tried them out in our classrooms and returned every two weeks to analyze the results.
Eventually, I led PD on my own at MƒA - a single session workshop entitled "The Socratic Circle." It was nerve-wracking to facilitate a session with adults because I am more comfortable speaking in front of irritable 14-year olds. Yet, as soon as it was over, I felt a rush of adrenaline and wanted to run the workshop again at the next available opportunity. I realized that the room was full of trusting, supportive people who wanted to explore discussion techniques in their classroom. They allowed for my rookie mistakes and continued to take risks as they engaged in the unconventional activities.
A major highlight of being part of the MƒA community came on election night, November 8, 2016, when I was asked to coach the 2016 MT²: Master Teachers on Teaching event speakers and emcee that year's program. MT² is unique in that it features TED-style presentations, where teachers within the MƒA community explore thought-provoking and inspiring topics in education in front of a large audience. What made this program different was that some of the speakers were very much taking risks, not only by exploring their own personal stories, but by managing public speaking in front of their peers.
Ironically, the 2016 election results spawned a time where knowledge and facts started to become accessories rather than necessities. More than ever, we needed the voice of critical thinking and logical citizens to communicate their ideas to the public. Granted, the MT² audience is already chock full of discerning minds - teachers within the MƒA community and their guests - and thank Zeus they are the ones in the classrooms.
Last year's MT² teacher speaker group built connections in a meaningful way because of how each of them invested themselves in the process. To some degree, they became more of a collective over the time as they were not only responsible for their own ideas, but also became citizens of the group, and thus the larger MƒA community. The pinnacle of this came when one of the presenters, MƒA Master Teacher Derek Dubossi, was still unsure of how strong the end of his talk was. He went forth and started speaking at MT², then near the end, he stopped and said "Up until the point of intermission, I had no idea how I was going to end this… But Marvin (a previous speaker), thank you so much, you have shown me the way!" Derek then gave Marvin a high-five and delivered a kick-ass ending incorporating the strategies from Marvin's talk! The crowd roared. I got chills. We saw risk taking, we saw community, we saw the support of ideas happen in front of us… organically.
I cannot wait for the 2017 MT²: Master Teachers on Teaching event, "Truth Matters: Logic, Lies and Trust in the STEM Classroom" coming up on Thursday, December 14. We will get a glimpse of the middle ground between light and shadow, between science and superstition, and what lies between the pit of a pedagogue's fear and the summit of their knowledge. It will be a full house at MƒA, with opportunities for teachers and the general public to tune in via livestream on MƒA's Facebook and Twitter pages.
Here is a preview of this year's speakers:
SEE! Bruce Greenspan - The story of one teacher hunting the Sasquatch!
SEE! Patrick Callahan - The story of one teacher's epic failure in the middle of the wild brush of NY forestry.
SEE! Tamara Parks - The story of one teacher's quest for thrill seeking in her classroom.
SEE! Peter Brooks - The story of one teacher's struggle against teaching math?!?!?!
SEE! Nancy Buck - The story of one teacher's love for sarcasm
SEE! Kit Golan - The story of one teacher teaching a subject… then becoming the subject!
SEE! Gardy Alabre - The story of a teacher who thinks fourth graders can do Calculus.
SEE! Molly Shabica - Host of this year's event. 
SEE! Seth Guińals-Kupperman - A teacher with only one idea.
SEE! Teachers asking their students to take risks… and taking risks themselves… in front of you.
You are guaranteed to be provoked, challenged, inspired and #probablytiredbecauseyouvetaughtalldaybutatleastyouarenotpresentingthisyear.
After engaging with the 2017 MT² speakers, it seemed to me that of course, what you think does matter, but more importantly, it is how you think. The MƒA community is a smart, community-oriented, forward-thinking bunch who open their arms wide, allowing space to make mistakes and to create. I am grateful that Jim Simons and his staff forgave the horrific dinner incident (#dinnergate) and gave me a chance to engage deeply with my fellow citizens at MƒA.
MƒA teachers can sign up for MT² on the Small-World Network. STEM teachers outside of the MƒA community can register here.
Michael Paoli is a two-time MƒA Master Teacher with over 18 years of teaching experience. He teaches middle school mathematics and science at Ella Baker School in Manhattan. In addition to hosting MT², leading workshops, and mentoring early career teachers at MƒA, Michael has given a TEDx Talk on creating a self-sustaining aquaponics system in his classroom and previously received a Fund for Teachers grant to study aquaculture in Europe.