Why a Teacher at Midwood High Traded Lord & Taylor for Algebra and Geometry
In the News | December 21, 2016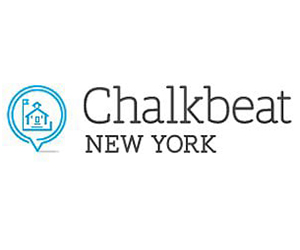 Chalkbeat NY recently visited the MƒA course, "A Continuing Conversation: Race, Equity, and STEM Education," and reporter Alex Zimmerman spoke with MƒA Master Teacher Wendy Menard about her interest in collaborating with other teachers to think about how social justice issues can intersect with math and science education. Wendy's story is feature in a "How I Teach" profile in Chalkbeat NY:  
"What's a word or phrase you would use to describe your teaching style?
Hands-on. Conceptual. Interactive. Energetic. I never sit down. I try to teach them bigger ideas rather than teaching to a test, which is a challenge in a Regents-based high school.
Tell me about how you became interested in talking about social justice.
I engaged in the process of educating myself (about social justice)… When I became a MƒA teacher last year, I applied to be a part of the 'Racially Relevant Pedagogy' professional learning team."
How in your teaching practice do you think about social justice?
"There's a Regents curriculum and there's a topic you have to teach every single day. I teach electives every term and the electives are usually for students who are not going on to Algebra 2 or precalculus. So I have a lot of room to teach whatever content I want, and I try to infuse social justice themes into those classes."