Responsibility: Stories About Leadership
In the News | June 29, 2018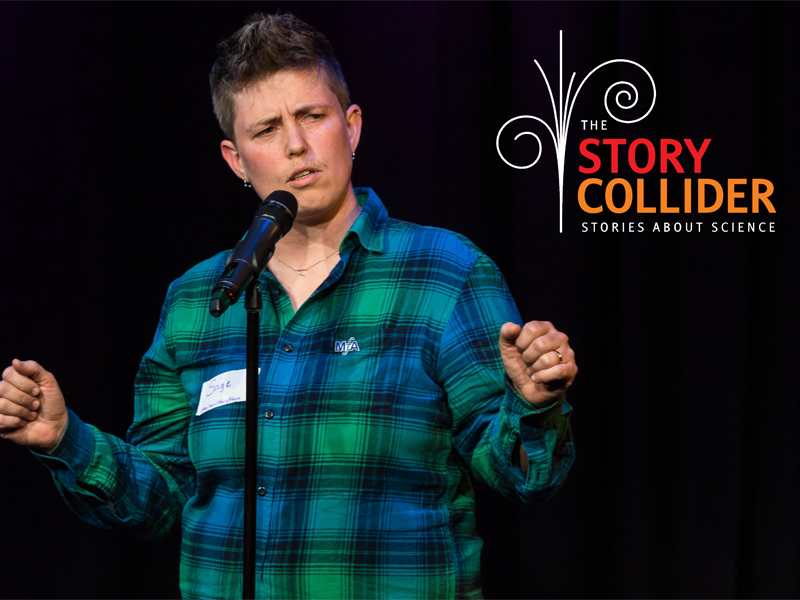 "We all have some level of responsibility for others. And sometimes we have to ask ourselves -- are we doing enough to live up to those responsibilities?" – The Story Collider
Earlier this year, MƒA teamed up with The Story Collider, a nonprofit that shares personal tales about science, to host an MƒA Thursday Thinks event featuring an evening of storytelling. In front of a crowd of MƒA teachers and other NYC public school teachers at Caveat, an intellectual speakeasy in the Lower East Side, six MƒA teachers shared tales about mathematics, science, and life as a teacher.
The June 29th Story Collider Podcast about responsibility in science featured MƒA Master Teacher Sage Forbes-Gray's story about standing up for her identity and discovering the best ways to truly support her students, including LGBTQIA individuals. Here are excerpts from the transcript:
A couple of years after that, I was in my classroom with a group of queer students and this one gay boy, Wyatt comes up to me and he says, "Everyone is queer. It's so cool. I don't have to explain anything to anyone." 
Even though it had been 20 years since I had come out, I knew exactly what he meant. Even after all that time, I rarely find myself in entirely queer spaces, especially socially, and it's something that I cherish. 
I had the opportunity last semester to go facilitate a professional learning team at Math for America along with two non-cis queer educators called affirming LGBT students in the STEM classroom. That first night, almost everyone was queer and there was just this energy, this joy of us all being together. Even after all this time, I still need that. Like Wyatt, I need that feeling of togetherness.
Listen to the episode and read Sage's full transcribed story here.